During these challenging times, inspiring leaders in the profession can help lift us up and shine a light on the future. AMTA celebrates and congratulates Valerie Smothers, a teacher who has impacted the lives of many through her passion and dedication to massage therapy and 2020 recipient of the Jerome Perlinski Teacher of the Year Award.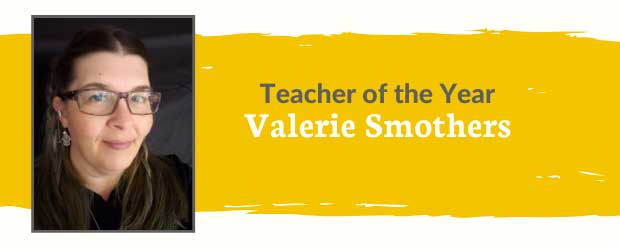 Valerie is a teacher at the Palpation Prep School of Massage in Benton, Kentucky, a school she founded with a desire to graduate excellent massage therapists. She has been a massage therapist for 20 years and began teaching in 2011.
Those who nominated her for the award describe how her enthusiasm for massage therapy has spread to her students, as well as the community. "She has always exhibited excellence in everything she does. Valerie has poured her entire heart into massage therapy." "Valerie exudes infectious passion and gusto for her profession, vision, and the goals of her students!" "She has initiated a potential revolution for massage in our community that will, no doubt, change the world for many individuals."
"We are delighted to recognize Valerie for her outstanding contributions to massage therapy education," says AMTA President Angela Barker. "It's clear she demonstrates the commitment to teaching and quality massage therapy education that AMTA seeks to honor in the Jerome Perlinski Teacher of the Year Award. Massage schools are at the roots of our profession, and teachers like Valerie are vital to the development of quality massage therapists who help us all advance."
Each year, AMTA recognizes a Teacher of the Year, an honor bestowed on an instructor in an AMTA member school who demonstrates exceptional teaching abilities and a commitment to high standards of education in massage therapy. This award is in memory of Jerome Perlinski, an extraordinary educator and much loved leader.
About the Educator Awards
Jerome Perlinski Teacher of the Year Award
This award honors the memory of Jerome Perlinski, an extraordinary educator and much loved leader.
Jerome Perlinski is remembered for his recognition of the gifts and talents of others and his ability to bring out their best. A consumer and advocate of massage therapy who was not a practitioner, Jerome held a doctorate in the history of ideas from St. Louis University.
He was a widely experienced teacher and lecturer whose committed work helped raise training standards, improve teaching methods and educate massage practitioners about the importance of ethical, professional behaviors. When colleagues remember Jerome, they use words like inspired, passionate, motivating, principled and exceptional.
https://www.amtamassage.org/about/awards/educator-awards/?utm_source=informz&utm_medium=email&utm_campaign=members&utm_content=summer-school-newsletter&fbclid=IwAR1sb43okEDAA2XISTq1p-6d6_Q44Hqv-x9Vy_8S_4drSp2Mdt1_WZ8hyIw