Classes begin early 2023!
MAKE A DIFFERENCE IN YOUR CAREER AND PEOPLE'S LIVES
Palpation Prep School of Massage is a premier massage school in western Kentucky. Licensed by the Kentucky Commission on Proprietary Education, we teach knowledge and skills necessary to becoming a leading massage therapist helping clients overcome debilitating pain and leading healthier lives.
Massage schools are not all alike. Palpation Prep School of Massage differs in that the majority of our focus throughout school is on understanding and resolving complex pain and dysfunction that our clients face on a daily basis. We help students become critical thinkers who can assess and treat acute and chronic problems many of our population live with today.
HOW PALPATION PREP IS DIFFERENT
We educate students on the 4 pillars of success in massage therapy.
Quality Education in Technical Assessment
Following the Code of Ethics and Standards of Practice
Communicating with compassion, empathy, and integrity.
Combining muscle manipulation with the science of body alignment, we educate to identify the ROOT cause of many pain syndromes.
Learn how you can help conditions such as back pain, whiplash, carpal tunnel
syndrome, headaches, plus more!
MASSAGE THERAPY AS A CAREER PATH
Practitioners who graduate from Palpation Prep excel in making a difference in their clients lives. The ability to alleviate pain, positively affect lives and earn a better than average income makes a career as a massage therapist highly rewarding. Our graduates are in high demand in a multitude of settings – whether you want to work for a chiropractor, in a clinical setting, a spa or for yourself, you will succeed. Upon graduation, you can expect to earn anywhere from $50-$100 per hour in the western Kentucky area. An employee can expect to make a percentage of that fee.
"We are excited that you are interested in a career in massage therapy! The Palpation Prep curriculum is designed to combine advanced educational content and technique to create exceptional massage practitioners. The proof will be found in our graduate's success!" – VALERIE SMOTHERS – LMT & FOUNDER, PALPATION PREP SCHOOL OF MASSAGE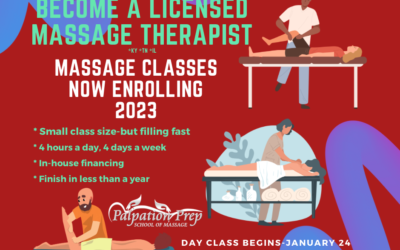 If you are ready to start you career as a licensed massage therapist in western Kentucky, Tennessee, or southern Illinois, contact us now to reserve your spot in our next day or evening class 2023. (270)906-5152
There are no upcoming events to display at this time.
Location
1012 Main St, Suite D
Benton, KY 42025
Class Schedule
Day Classes
Tuesday – Friday
9:00am – 1:00pm
Evening Classes
Monday – Thursday
6:00pm – 10:00pm